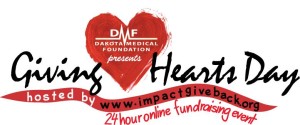 We can't "survive" without YOU!
This is a one day only opportunity to multiply the impact of your gift to Kamp KACE.
Giving Hearts Day is February 11, 2016. Please go to www.impactgiveback.org to give your tax deductible donation.
Our "home base" for Giving Hearts Day is 2631 12th Ave S. Suite D in Fargo from 10am-7pm if anyone wants to stop by or needs help with making their donation.