Kamp KACE Charity Team
Kamp KACE and the Fargo Marathon are teaming up to support the camping experience for kids with cancer. Go the extra mile! Run or walk for the Kamp KACE Charity Team in the Fargo Marathon May 19th-20th.
If you are planning to run in the Fargo Marathon, 1/2 Marathon, 10K, 5K, or a relay sign up below to become a charity runner. If you are not registered for a race, there is still time to sign up and become a charity runner.
Benefits of being a Charity Runner
– Motivation to train and meet your personal race goals
– Raise financial support for a great, local organization
– Raising community awareness about childhood cancer
Join the Team!
The 2017 Fargo Marathon dates are May 19th and 20th. Remember, it's never too early to start training.
1. Sign up for any Fargo Marathon Event at www.fargomarathon.com
2. Click Here to join the Kamp KACE team.
3. Sign-In (or create an account) and Complete Registration
4. Email, call, text, write a letter, talk, or sky write your friends and family to support you and Kamp KACE.
5. Run! or Walk!
QUESTIONS? Contact Kamp KACE Team Captain Kris Lindemann at 218-790-1982.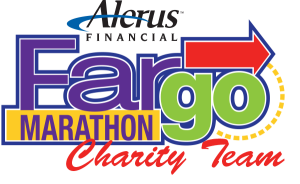 Past Success
The Kamp KACE charity team has been a huge success in previous years! In our best year, thanks to the 51 runners and their donators the team raised $9,000. A special thanks goes to the BIO Girls Running Club. The BIO Girls, a club for girls dedicated to improving self-esteem through physical fitness and positive mentoring, donated the $7,500 they raised to Kamp KACE. Thanks Girls!
Check out the team achievements from 2014! Click to enlarge.